Trauma
Informed
Care
Practices
with
Fathers
How to Effectively Address Trauma in Community Based Programs
Trauma Informed Care Practices with Fathers
April 20th & 21st – Long Beach, California
Long Beach Unified School District Head Start
Teacher Resource Center 90755
1299 East 32nd Street,
Signal Hill, CA, 90755
9:00a.m. to 3:00p.m. Both Days
Register Here
Full Conference Fees Start at $50.00
One-Day Fees Start at $20.00
CEUs | Address Trauma in Community Based Programs Fatherhood Programs FFCA is a leader to give the best opportunity to support the needs of parents, practitioners, agencies and an array of diverse stakeholders.
April 20th
FFCA Trauma Informed Care Conference is approved for 5.5 BACB Type II Continuing Education Units.
April 21st
FFCA Trauma Informed Care Conference Day Two (2) is approved for 5.0 BACB Type II Continuing Education Units.
TOTAL CEUs
This Conference meets the qualifications for 10.5 total units of continuing education for MFTs, LEPs, LPCCs, and LCSWs as required by the California Board of Behavioral Sciences.
PROVIDER INFORMATION
Innovative Learning. Provider Number: OP-09-0228. Innovative Learning LLC, Provider approved by the California Board of Nursing, Provider # CEP 15558, approves this conference for 10.5 Total Contact Hours.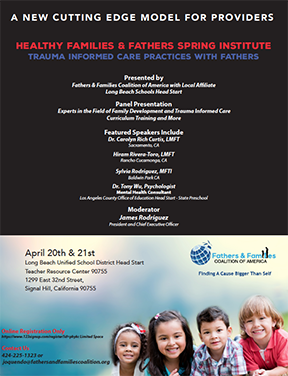 City of Long Beach Head Start
Fathers & Families Coalition of America is the premiere source for continuous improvement training and for bringing diverse persons to collectively address issues of critical importance in creating stronger families and building healthy communities. FFCA will introduce a trauma-informed system of care to attendees as part of three Southern California. This event provides an opportunity to network while featuring the most current and vital information on emerging topics relevant to trauma, health, wellness, and alternatives to traditional care systems. Long Beach Head Start, FFCA Affiliate is co-host of this two-day conference to support the ongoing needs of those working with children and families.
Fathers and families living in-risk need professionals prepared to provide an integrated approach of direct services and fundamentally supported with organizational leadership that holds to beliefs of healing and empowerment. Leadership is essential for the implementation of Trauma-Specific Interventions and the creation of Networks of Trauma-Informed Care Practices with Fathers. FFCA is bringing together experts working with in-risk individuals and communities for 2-day institute on some of the latest trauma-informed practices working with fathers, parents of young children, foster-care/group homes, child welfare, Head Start and children's mental health.
Some fathers have their own histories of adverse childhood experiences and in communities with high exposure to crime and violence with increased rates of fatherlessness the effect to the new generation of fathers can continue to affect fathers' ability to have healthy relationships and positive paternal influences. However, when professionals and communities come together to engage fathers with services specifically designed for men, children will have improved outcomes as well as fathers. Come ready to be engaged as attendees for a very rapid and intense two-days for a paradigm shift working with families and engaging fathers.
Download Institute Program and Registration Form Here
Continuing Education Units Available Through A Special Partnership for CEs to be issued to professionals who are Licensed Marriage and Family Therapists (LMFT); Licensed Clinical Social Workers (LCSW); Licensed Educational Psychologists (LEP); Licensed Professional Clinical Counselors (LPCC); MFT Interns (IMF); Associate Clinical Social Workers (ASW); and Professional Clinical Counselor Interns (PCCI) in the State of California.

PRESENTER BIOGRPAHIES
Dr. Tony Wu is currently a mental health consultant with the Los Angeles County Office Education's Head Start-State Pre-School Division. He is a licensed psychologist and nationally certified school psychologist. Previously, he worked as a psychologist and clinical supervisor at non-profit mental health clinics. He has also consulted with governmental agencies as a researcher.
Dr. Wu was born and raised in the beautiful tropical island of Taiwan. He immigrated to the United States to start his high school career. With the support and love of his friends, families, teachers, and professors, he was able to complete 4 graduate degrees related to the practice of psychological sciences and therapeutic techniques. Upon Graduating from Indiana University at Bloomington with a Doctoral Degree in Psychology, Dr. Wu pursued additional advanced training in clinical psychopharmacology, law and psychology, pediatric psychology, school-educational psychology, and adult psychology.
Dr. Wu is also a certified employee assistance professional (CEAP), specializing in employees and employers' challenges. Finally, Dr. Wu is a board certified psychologist credentialed by the American Board of Professional Psychology. Dr. Wu strongly believes in training and passing down clinical wisdom and latest knowledge to the next generation of psychologists; consequently, he has been teaching doctoral students, pre-doctoral interns, and post-doc fellows at the university level and clinical level. Dr. Wu also volunteers his time for national organizations, such as American Psychological Association and American Board of Professional Psychology. He is a Fellow of the American Academy of School Psychology. Moreover, he is a prolific writer, having published over 30 articles, book chapters, and newsletters. Finally, Dr. Wu has presented at over 60 regional, national, and international conferences. In his spare time, Dr. Wu enjoys spending time with his wife and their two children, Elysse and Eli. Dr. Wu enjoys traveling, exploring Polynesian Arts, watching movies and TV, reading, and cooking.
Sylvia Rodríguez is a Marriage and Family Therapist Intern (MFTI) with 10 years of experience leading male involvement series with in an Early Childhood Education. Ms. Rodriguez has been a Family Service Facilitator for Baldwin Park USD since 2001. In her role, she supports families with high needs while linking them to community services. She has served as disabilities specialist supporting children with special needs in the classroom. She has worked with English Language Learners conducting Language Assessment Scale Testing. Since 2004, Ms. Rodriguez has edified Head Start and other practitioner's skills to increase Father Engagement Capacity Building. Ms. Rodriguez has a Masters in Clinical Psychology with an emphasis in Marriage and Family Therapy. A select list of national conference she has lectured includes National Head Start Institute on Father Involvement, Dallas TX, June 2004; 6th annual Fatherhood & Families Conference, Phoenix AZ, February 2005; 7th annual Fatherhood & Families Conference, Phoenix AZ, February 2006; and National Head Start Association Conference", New York NY, December 2007.
Hiram Rivera-Toro is a Licensed Marriage and Family Therapist who has worked for the last 35 years with high risk adjudicated and non-adjudicated youth, to include sexually abusive youth, sexually reactive children and youth who are gang affiliated. From 2000 to 2010, Mr. Rivera-Toro served the Superior Court of California, County of Riverside, as the Supervising Court Mediator/Evaluator for the Family and Juvenile Law Divisions. Mr. Rivera-Toro holds a Bachelor of Arts Degree in Theology and a Bachelor of Science Degree in Behavioral Science, with Emphasis in Psychology from Pacific Union College, Angwin, CA. Mr. Rivera-Toro also holds a Master of Science Degree in Marriage, Family, and Child Counseling from Loma Linda University, Loma Linda, CA. Mr. Rivera-Toro was licensed as a Marriage and Family Therapist by the Board of Behavioral Sciences of the State of California in 1981.
Mr. Rivera-Toro is currently the Chairman of the Board of CARE Counselors, Inc., a faith-based counseling organization providing therapeutic services to numerous denominational churches in Southern California; and is the Chief Executive Officer of PAASE© Programs Inc., which provides risk assessments and clinical individualized treatment programs to high risk youth in Southern California. He is also a practicing consultant to residential treatment placement facilities and provides mediation services to specialized cases referred by the Family Law Division of the Superior Court of California from various southern California counties. He has been qualified as a provider of expert testimony in child sexual abuse and custody cases, testimony on abusive family dynamics, home assessment, family reunification issues, child custody, visitation, access, and victimization issues. Mr. Rivera-Toro was recognized for his commitment to fathers, mothers, and children at the 12th Annual National Fatherhood and Families Conference in May 1-4, 2011 in San Francisco, California.
Carolyn Rich Curtis, Ph.D. is a Licensed Marriage and Family Therapist and founder of the Relationship Skills Center. She obtained her doctorate at the Professional School of Psychology, Masters from CSU, Sacramento and Bachelor's Degree from UC, Davis. The Relationship Skills Center has been recognized as one of the leading organizations in the nation in building healthy relationships, and was awarded two Healthy Marriage federal grants. In recognition of her innovations, the Administration for Children and Families wrote three monographs about the Skill Center. Dr. Curtis spoke at the White House regarding the success of their program. In her clinical practice, she specialized in working with couples, alcohol abuse and trauma. She was an adjunct faculty member in the Psychology Department of California State University, Sacramento and American River College teaching Child Development, Human Sexuality, Stress Management, Applied Psychological Principles and Introduction to Psychology. Dr. Curtis is a trainer of facilitators for Mastering the Mysteries of Love, Bringing Baby Home, Relationship Enhancement, and PAIRS. She is a Certified Imago Therapist, and Certified Clinical Trauma Professional. She presented papers at Smart Marriage Conference, The Governor's Conference on Child Abuse, the California Association of Marriage and Family Therapists, University of California Conference on Child Abuse and Neglect, International Transactional Analysis Association Conference, Fathers and Families Coalition of America, Office of Family Assistance Grantee Conference.
ADDED PANELIST
Denyse Ray, PhD, BCETS, FAAETS has more than two decades as a clinical forensic first responder and private practice practitioner, dedicating her career to helping victims of natural disasters, school shootings, and terroristic attacks remove their emotional mask, Denyse Ray, PhD, BCETS, FAAETS, retooled her skills and now divides her time between training, and consulting writing and research. In her consultant work, she regularly provides workshops and seminars. Dr. Ray has provided many social service agencies with in-depth direction and understanding as they acquire skills to better serve their communities. Her trauma curriculum continues to be utilized in schools of social work, and her 'Surviving Workplace Trauma' training serves as a preventive resource in many work places throughout the United States. She is the author of 'The Pain Didn't Start Here; Trauma and Violence in the African American Community". Her current work Mirroring Images; Native Hawaiians Traumatic Journey is scheduled for release in fall of 2015. Dr. Ray has authored and edited many abstract and white paper on the affect and treatment of psychological trauma. She lives in Hawaii and is currently preparing for a global effort to reach communities who continue to experience the affect of intergenerational trauma.