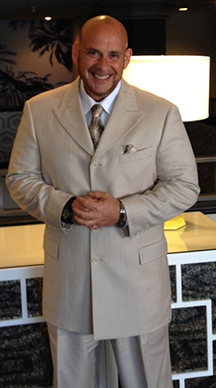 Finding A Cause Bigger Than Self
On behalf of my family, members of the FFCA Board of Directors, FFCA Affiliates and my professional family in Fathers and Families Coalition of America (FFCA), I am excited to serve and guide FFCA as a resource for practitioners and leaders, internationally. Over the past 18 years, we have invested heavily to support the capacity of professionals, researchers and parents by exposing them to technical assistance and professional development support. If you are reading my position for the advancement of services to remove hindrance working with fathers, it is my vision that, together, we will even do more.
I believe we are in a position where we must leave a lasting imprint in improving the lives of children in this world – children who desire the best from both their father and mother. FFCA's purpose is for children, to create a stage where stakeholders come together and develop their powerful potential to make a change in this generation and an elimination of procrastination and now be about action. Personally, I cannot wait anymore for procrastination, starting with myself.
We will introduce more international local chapters and expand our national conference. In 2015, we trained over 900 individuals with the focus on fathers and their impact on children, mothers, families and communities. We will take our brand into other nations and support their capacity to serve families. We will expand our research team and support agencies needing high impact evaluations. We will do more and I will expect more from myself to continuously improve my leadership, self-awareness as a person, father, friend and servant leader.
Part of the process of continuous improvement is the ongoing improvement of Fathers & Families Coalition of America.Finding A Cause Bigger Than Self is more than our organization's year theme. We will be a Quality Improvement Training Center to support others. We have some major plans in 2016! Come help us by supporting this agency that has touched the lives of individuals in the utmost parts of the world. We are helping others who are Making a Difference in the Lives of Children!
How can we deny children? We must make a major impact on this generation. We have so many knowledgeable professionals and researchers that must apply their knowledge to build programs.
Action. The action of now to help build sustained and ongoing programs that are currently touching the lives of fathers, mothers, children, communities and nations. As you read this, I am asking, starting with myself, that this is an appointed time for us to build. In the past two decades, I have never seen as much outreach from individuals around the world seeking support with the agenda to improve fathers' involvement in the lives of their children.
We need your help to build and sustain our platforms that provide powerful opportunities to improve the lives of children. If you join us right now as a FFCA Affiliate, you would be coming at the most important time on the agenda to expand support for practitioners around the world. We need your support now! We started from humble beginnings from Coolidge, Arizona now reaching as far as Sydney, Australia. This is not a trick to get you engaged, but to share in a seed that has grown into something special. I want to share that when I started FFCA, I just simply got started. There are always more reasons that you cannot then reason that you can. I want to share it is now that you must either develop or expand programs out of the government, higher education, faith-based and community-based organizations to build for the future in the now and not your past. Finding A Cause Bigger Than Self!
We can not build a legacy on what we intended to do or what we wanted to do. Fathers and Families Coalition of America's vision is to improve the lives of children through father involvement and building stronger families by growing domestic and international affiliates and membership for networking development, capacity building assistance and increasing common core standards for professionals working with fathers. We have been fortunate to have the Affiliate and Membership base grow, As We Grow, You Will Grow!
In 1773, Benjamin Franklin said, "Well done is better than well said." We cannot do any of what we can do with your involvement! Our Mission: FFCA has a mission to enhance the capacity of service providers and help create a legacy of making a difference in the lives of children, reducing global child poverty and strengthening families—to include the presence of a father. Join us today to be part of a special mission for children and families globally.
Please contact me, at any time, to share how you can be a part of Fathers and Families Coalition of America. Email at james.rodriguez@fathersandfamiliescoalition.org or call 424.225.1323.